Color Pop: Using Bright Colors in Home Interiors
Using bright, bold colors in home interiors is daunting for many homeowners.  I often hear, "I love bright, beautiful colors but I'm afraid I won't like that color a few years from now!".  Many homeowners express concern about over-committing to a specific color that may be too overwhelming or too "loud" for their space.  And many express concern about whether or not they will still like that color in the years to come.
A popular trend right now in home interiors is to use that bright color in areas that can be easily updated in the years to come.  For example, painting a single wall in a bright blue or using bright yellow throw pillows on a sofa or side chair.  A single piece of furniture and a piece of artwork can be a great way to introduce a bright color without over-committing or dominating the space.  Many homeowners assume that a bright color needs to be repeated and tied into the space but that is not necessarily the case.  That single bright pop of color can be THE signature color statement in the room.  With the popularity of all-white or neutral gray interiors, a singular jolt of color can make a dramatic statement.
"Color Pop" is a term that refers to using bright jolts of color in small doses to make a statement or an eye-catching focal point.  Here are a few examples in home interiors ...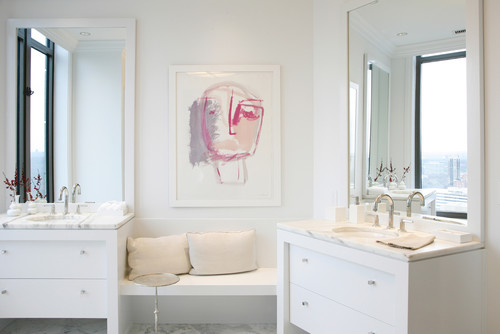 Authored by Karen Wistrom on November 18, 2013 - 8:00am
Sign Up For Cabinet Tips, Trends, & More!