Bath Stories: Creating a Master Retreat
Designer Jessica Allison of Essence Design Studio knew that this would be a unique and challenging project as soon as she spoke to her clients. With five kids under the age of seven, of which three were triplets, it was time to give the homeowners a space of their own to relax and unwind.  The homeowners originally planned on remodeling five years ago only to put their remodeling plans on hold with the news of their expanding family.  Fast forward five years, they are now ready to make their dreams a reality!
Located in the historic Hyde Park neighborhood of Cincinnati this 100+ year old home did not have a bath attached to the master bedroom and lacked adequate closet space for the homeowners.  However, there were two empty and unused rooms adjacent to the master bedroom which could be redesigned into the master bath and walk-in closet the homeowners desired.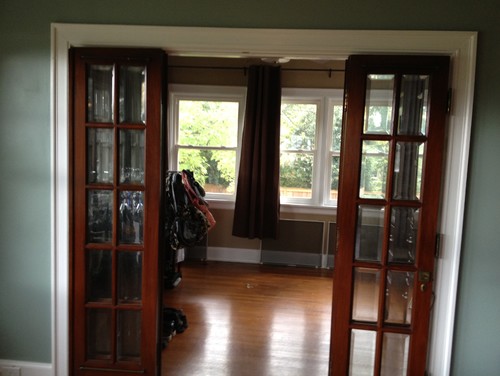 Jessica explains "The smaller room in the back (shown above) had a lot of windows... which made it tricky for placing vanities and a large shower.  With much deliberation and going through a few design options using both spaces, we settled on a smaller bathroom design by taking out the some windows in the smaller room and using the larger room for the walk-in closet."
Keeping in mind the character of the home, Jessica used classic elements such as inset cabinetry in Dura Supreme's new Zinc paint color which the homeowners loved and created the rest of the color palette to complement the cabinetry.  Hampton Carrera marble was used on the wall tiles, Super White Quartzite for the countertops and a darker gray tile for the floors.  Since the wood doors were original to the home, Jessica decided to reuse the wood doors to preserve the character and charm of the home.
According to Jessica "the homeowners did not want a plain mirror over their vanity".  So Jessica designed the space to include six beveled mirrors accented with a beautiful molding detail to create a focal point.  This is one of the homeowners favorite elements within the space!
Congratulations Jessica on a beautiful transformation!  For more information on Essence Design Studio in West Chester, OH, visit their website.
Authored by Anonymous (not verified) on December 16, 2013 - 8:00am
Sign Up For Cabinet Tips, Trends, & More!