The Language of Color
Have you ever noticed that conversations about color tend to use words that relate to feelings? 
"That color feels happy".
Or, "that color feels too heavy".
Or, "powerful, peppy, intense, blah". 
Whatever words you choose to describe a particular color, oftentimes we use words that describe feelings.
Because color transforms. And color evokes feelings.
It can transform an outfit or a room and can affect our feelings.  That's the magic about color!  And knowing how to use or coordinate colors can affect or transform how you feel about a space. Think about a front door with a classic white paint.  And now think of that same door in a snappy yellow, an intense blue, a popping red or a screaming green! 
It's much the same with kitchen cabinetry.  Of course there are many who prefer the classic good looks of white paint or dark stained cabinetry, but Dura Supreme also creates hundreds upon hundreds of daring custom colors for those who enjoy a colorful kitchen to the fullest. 
Dura Supreme's finish lab creates custom colors on a daily basis.  The lab cabinets are full of custom color matches and although many of them are the perfect shade of white or gray, there are just as many in eye-popping shades of yellow, green, orange, red and even purple!
I appreciate seeing homeowners venture out on a limb and design a kitchen that speaks volumes about what they love and how they want their home to feel!  Here are just a few colorful kitchen examples from Houzz …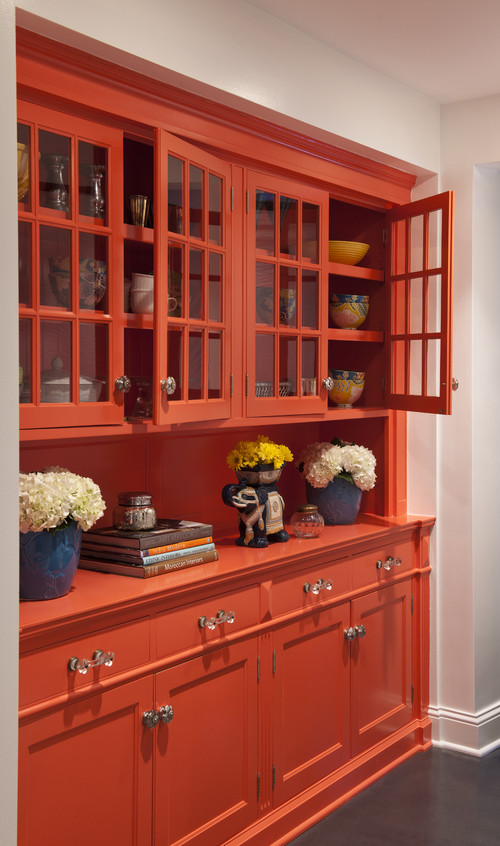 Authored by Karen Wistrom on August 26, 2013 - 3:50am
Sign Up For Cabinet Tips, Trends, & More!